Top 5 Professional Courses After B.Tech to Get Quick IT Jobs!
by Prakash Kumar 517 views0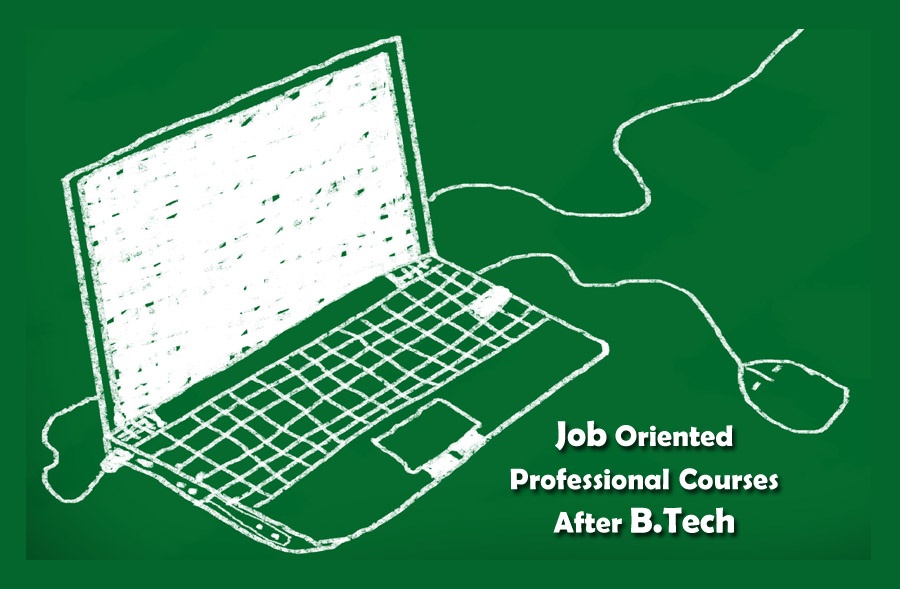 Job Oriented Professional Courses After B.Tech
It is not unusual that after completing B. Tech, there are candidates who do not get a desired corporate job. Some of them land up with jobs which make them feel insecure and low in confidence. In fact, it is only the minuscule few that manage to get the cream jobs in brand firms or land up in dream Silicon Valley IT companies.
To go on a smooth career track, sometimes after completion of B.Tech, certain additional career courses or short-term training always need to be evaluated to get the right type of job, especially IT Jobs. It is important that students start referring to the internet and other career counseling centers as well as peers or seniors.
Top 5 professional courses which will put career on the desired track
MBA or Full-time PGDBA: Those students who have a flair for interpersonal relationships can opt for a full-time MBA after B. Tech completion. This means a patient wait for 2 more years but this wait is worth it. Their career horizon expands widely after this and Computer Science or Electronic B. Tech with MBA systems specializations can consider a career in the lines of Client solution architects, pre-sales managers etc. This is a combination of technical and soft skills which not all possess.
Having an MBA degree gives that desired personality development to IT engineers which sometimes becomes a stumbling block. It has been several times noticed that fresh engineers often find it difficult to clear basic interview for a job in spite of good academic background. There are also scenarios of bright engineers not being able to coordinate with clients for coding and development projects. This is where a soft skill like MBA will shape up the candidate.
Mobile App development course: Every aspect of life these days are controlled by smartphones and the apps on them. Both retail and enterprise business rotates around apps.  A lot of tier 2 software and IT companies are investing heavily in apps. A good course in Java and C++ is the pre-requisite for the same. Those with a B.Tech degree will find it easy to land up in plumb app development jobs.
With good hands-on experience in some projects, a move towards the position of a project manager in app development is very easy. Other technologies like Artificial Intelligence (AI) and the Internet of Things (IoT) is being embedded in the latest versions of Android and iPhones. It goes to show that app development is taking new evolutions and advancement every day bringing in a lot of scope for new engineers.
Web programming: Web designing and development using tools like PHP, RUBY, PYTHON etc. have a lot of scope. Almost every company has an Information Technology department which requires specialist programmers to design website and portals and maintain them. There are software companies which are into the service of web development for their enterprise clients. They pay well to developers with good skills. Most of the companies which are into products and services are opting for website and portal. The portal basically has an embedded payment mechanism which enables the purchase of any merchandise and service. This means that the online process is crucial to company sales and revenue turnover.
Thereby such companies are ready to invest a lot in trained manpower specialized into website and portal development. Furthermore, it is the age of online ecommerce. There are a plethora of companies which have become the aggregator platform for selling products and services. There are also fintech companies which are providing specialized payment services for various verticals. All of them focus heavily on R&D of web design, technology, portal, payment gateway etc. This means that there is a very bright future for web designers and programmers.
Java and Advanced Java Framework:  Java or J2EE is a high power tool used by software companies for development. A course in Java will teach everything on XML, Struts Framework, Web app component development etc. It has good career options. The fresher will start out as junior programmers and then depending upon their skill and ability can scale to a team leader and then a project manager. A lot depends on the content of the project which gives the desired exposure. Most of the apps and software's are developed on Java front-end programming and hence it continues to have a lot of scope in IT development sector.
Digital marketing course: In a contemporary era as of today, digital marketing has exploded on the world stage and is driving every aspect of life. A full-fledged course will teach all aspects like SEM, SEO, Web analytics, Content marketing, Social Media Marketing, Mobile apps etc. It teaches to manage data on powerful social media platforms like Facebook, YouTube, Twitter, Google Adwords, and Google Analytics etc. The best part is that such courses have a short duration of not more than 6 months or so. The students can then go into roles of Digital project or marketing managers.
Apart from lucrative jobs, courses like these also give the background to these engineers to start up their own firms. There is a flow of Investor and venture capitalist funds ready to support good technology-oriented mass retail access projects. Most of these start-ups ride on digital marketing success. A pre-hand knowledge will give a lot of confidence to young entrepreneurs to start their own ventures. It is always not necessary to have a job to find the right success in life.
Conclusion
There are several good courses which can put career on the ascending track. The B. Tech students also need to understand that Silicon Valley or good on-site posting in UK or Germany is the beginning or end of the career. In fact with above-mentioned courses, there is ample scope in the domestic market also with good pay packages. It is very important that aspirants do not have a myopic outlook of migrating overseas at any cost. There was a social prestige obviously attached to a cream job in a developed country but no longer so. Self-sufficiency and success is the present age mantra.
In the end, success can come from anywhere and any segment, so the career line has to be approached with an open mind.