How to become Lawyer after 12th or graduation in India?
by Pradeep Jangid 411 views0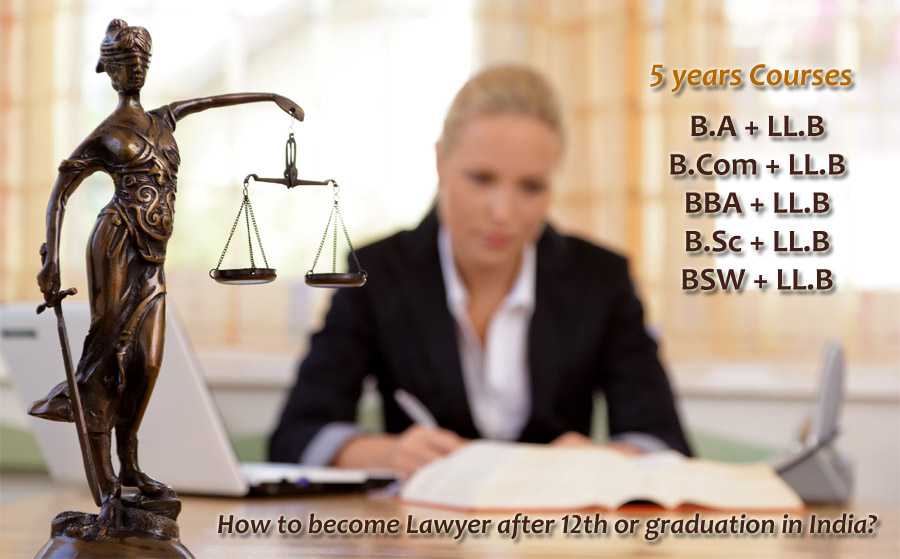 The choice of careers has evolved over the years as the education system has expanded. There was a time when every parent wanted their child to be a doctor or Engineer or teacher. With a lot of development in every field of education the scope of careers has increased by leaps and bounds. If we talk about 20 years back the children were not very much clear about their interests and primary careers were the most popular ones. If you talk about today, students are well acquainted with various streams. To become a lawyer is among the most prestigious professions but students never figured out easily a proper path or guidance to become a lawyer. Amidst Engineer or doctor, this degree remains less focused and students never thought of it.
When we hear the news about any form of crime whether its terrorist attacks, rape cases, fraud, property issues the first thing we do, is giving judgment for same. We say several times "They should be hanged or given lifelong imprisonment or should be entitled under that Act". In serious issues like rape cases, murders or terrorist attacks we become sensitive, our blood boils and we feel "I wish I was a lawyer, I would have put him behind bars". Among popular lawyers is Ujjwal Nikam who is an Indian special public prosecutor, has worked on prominent murder and terrorism cases. He played a vital role in the 1993 Bombay bombings, Gulshan Kumar murder case, and the 2008 Mumbai attacks.
As passing judgment is very easy but to fight for a case and bring justification for the same is not a cake walk. Law is not an easy profession, but it is exciting and comes with responsibility of saving lives and bringing crime doers to pay for their misdeeds. The client puts complete trust in Lawyers. So, if you have decided to choose law as your profession you should always work on your reading, analytical, debate, communication and listening skills. Moreover, you should keep yourself updated with all the news prevailing in the world. Read Economics times and watch News regularly this will help you to evolve in this profession.
The first question is How to pursue the degree in law?
1)    Acquiring a law degree
To choose your career as a Lawyer you must pursue a degree in Bachelor of Law (LLB). There are two options, several universities offer a three-year course or five-year integrated course. If you are very clear that you want to become a lawyer, then you should choose an integrated course of five years as it gives you option of getting bachelor degree along with law as (BA LLB) or (B.Com+LLB) or (B.Sc+LLB) and gives you option to which course you want to pursue. Moreover, it saves your one year. But if you are not very clear about the career you can take a three-year course after your graduation.
Five-year LLB Course:
In the world of competition, everything comes at a price of competitive exams. Several universities who offer this program have an eligibility criterion of entrance exam. This exam is being conducted by several universities respectively. The most important examination is CLAT (Common Law Admission Test) which is accepted by 14 National Law Universities across India.
The syllabus of CLAT consists of the following subjects: –
•    English,
•    General Knowledge,
•    Current Affairs,
•    Mathematics,
•    Legal Aptitude,
•    Logical Reasoning.
•    GK and current affairs syllabus (50 marks each)
•    English including comprehension, logical reasoning (40 marks each)
List of universities which accept CLAT as an eligibility criterion for their 5 -year integrated program are as follows: –
NLSIU Bangalore
NLIU Bhopal
NALSAR Hyderabad
WBNUJS Kolkata
Now there is an eligibility criterion for Appearing in CLAT?
You should have completed your HSC (10+2) from a recognized board with minimum 50% marks in aggregate.
There is also an age limit, you should be below twenty years of age on the day of your test.
You should not depend only on the CLAT test as it is recognized only a few universities. Apart from these universities, there are other universities who offer 5-year law course. These are private institutes which conduct separate exams:
To name few are: –
•    Symbiosis Law School and New Law College from Pune
•    In Mohali -Army Institute of Law, Mohali.
•    Amity School from, Delhi.
•    Institute of law from Ahmadabad.
And many more.
You should also focus on LSAT (Law School Admission Test) – It is an entrance test organized by Law school Admission Council. The syllabus for LSAT consists of comprehension, reading and logical reasoning.
Top colleges who accept LSAT for admission are
•    In IIT Kharagpur there is Rajiv Gandhi School of Intellectual Property Law,
•    Jindal Global Law School, Sonipat.
•    School of Law, Dehradun.
•    KLE Society's Law College, Bangalore.
There is also state level entrance tests conducted by respective states for the admission in three years or five -year integrated course. You should prepare for all the tests extensively to get admission in either of them.
1)    Eligibility for 3 -year Course:
You should complete your graduation with 50% aggregate then you can opt for a 3- year LLB degree. There are various universities who offer this course like
•    Banaras Hindu University
•    Delhi University
•    Punjab University
2)    Internship
It is mandatory to do the internship as it gives you practical knowledge of various aspects. This is the most important part of the law degree curriculum.
3)    Get yourself enrolled with Bar Council
After your studies, you must get yourself enrolled as an advocate in any state bar council regulated by Advocates Act 1961. After completing your LLB course you become a lawyer but to become an advocate you must enroll as an advocate. There is no stepwise procedure to get you enrolled.
You must appear for AIBE (All India Bar Examination) conducted by Bar Council of India. It's only once you clear this exam you became a lawyer. You get an official license to practice and this license needs to be renewed after 5 years.
Now you are good to go and practice.
Job Opportunities in various sectors are:
•    Environment Law
•    Cyber Law
•    Intellectual Property Law
•    Civil Law
•    Labour Law
•    Criminal Law
•    And many more….
Graduates can also start their career from working in law firms. Graduates can start their own practice but the best way to get started is by working under established lawyers. This will earn you a good reputation and you can learn several tricks. Under proper guidance, you will prosper well.
Post-Graduation:
If you want to study further, you have various options. You can pursue the degree of LLM (Masters of Law) MBL (Master of Business Laws) and PG Diploma courses. Post Graduate law courses are available for various specialized fields.
Business Law
Civil Law
Corporate Law
Criminal Law
Taxation Law
Labour Law
Domestic Violence
Cyber Law
Graduates can also opt for several judiciary examinations conducted by respective states to become Judge after you have a gathered good experience and represented clients in various types of cases.